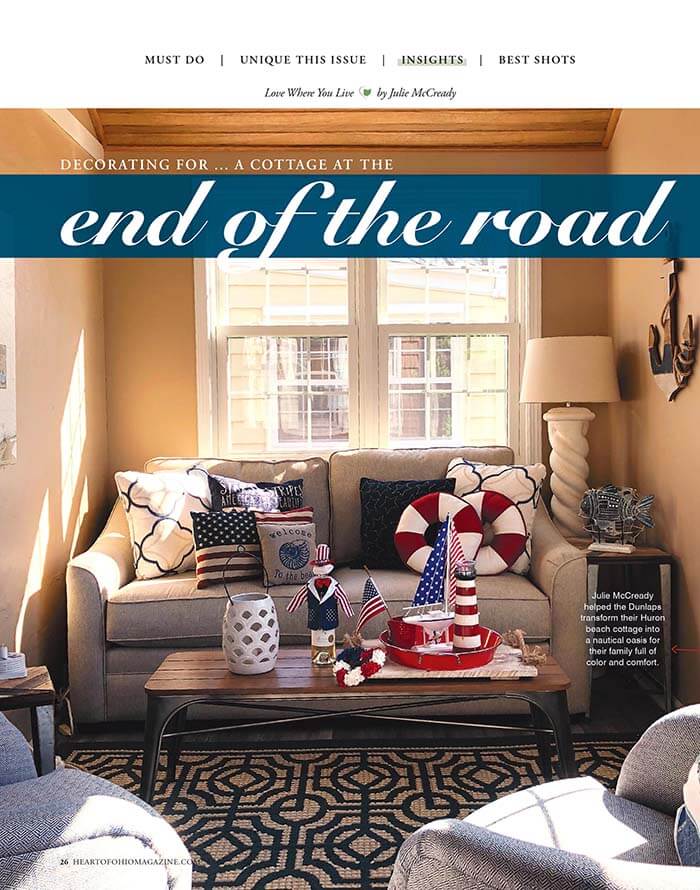 At the end of State Route 13, the 10th longest state route in Ohio, sits the quaint town of Huron. Named as one of America's Coolest Small Towns by Budget Travel magazine, Huron offers birding, boating, beaching and many other great activities for those who visit or live within its borders.
Along the shores of Lake Erie in this town are neighborhoods like Nickel Plate, Old Homestead on the Lake and Chaska Beach, full of permanent and warm-weather residents alike who enjoy activities both on the water and off. If you wander the area and stop for a chat with the beachcombers or bike riders, you'll find a repetitive response when inquiring where folks live when the weather turns cold and the cottages close up for the season … "Richland County, Mansfield," they say.
"It's the closest place to get to if you want a cottage along the shores of Lake Erie," Mansfield resident Phil Wilging says. "When you get in your car and take State Route 13 to the end of the road, Huron is there. So that's where my family set up summer living in the early 1950s, and continue to do so today." Hundreds of other Richland County residents over the years also have done so, giving the area the nickname, "Little Mansfield" among seasonal cottage owners. In 2009, Dave and Kerry Dunlap decided to join in the Little Mansfield settlement by purchasing a cottage in the Old Homestead neighborhood. Dave had grown up spending summers at his family's cottage on Gem Beach at Catawba Island, and Kerry's family frequently vacationed at both Gem Beach and Old Homestead, so both had a love of the area and a desire for more memory-making time with their son Kyle. The two-bedroom, one-block-from-the-beach cottage they found was perfect for their family. There were plenty of Richland County friends in homes surrounding them that welcomed them into the neighborhood, where beach-sitting by day turns into afternoon lunch outings on boats and backyard barbecues by night.
In 2016, the Dunlaps decided it was time to update their little cottage and they contacted me to assist them with exterior and interior design and furniture decisions for their remodel. Dave grew up in the building business with his father and is the second generation of Dunlap Builders in Lexington, Ohio, and Kerry is an avid watcher of home remodeling shows, so both had excellent ideas and vision for their redo. Their home is built of solid cinder block and concrete and had no structural issues, but posed quite a challenge when it came time to change out windows! New siding and a new roof were also on the list of changes, but at the top of the list was tearing off the existing front porch and creating a new entry and sunroom that would provide additional living space.
Being close to the waters of Lake Erie, it was easy to choose the color scheme of beige (sand) and blue (sky). It was also easy to decide to use other beachy materials like wood on the ceiling and rope around mirrors and accessories. Dave enjoys combing the beach for driftwood and Kerry delights in seeking out beach glass and lucky stones, so all of these accessory items were easily translated into the décor. We chose a durable Luxury Vinyl Tile (LVT) flooring system that emulates planked wood but is waterproof for their new floors. When deciding on furniture, we picked pieces that were correctly sized for the smaller floor plan and were comfortable for mornings and evenings relaxing in the sunroom. The sofa, deep with removable back cushions, can double as an extra sleeping space when friends and family visit for the weekend. The fabric is a newly designed performance fabric that provides cleanability, durability and longer light fastness to help with the amount of light that shines in the many porch windows. Two swivel barrel chairs created by Norwalk Furniture, located just 12 miles from the Dunlap cottage, allow for casual conversation across from the sofa or can be turned to view the many species of birds that congregate in the tree outside the entry door.
With phase one of remodeling complete, the Dunlap family and friends are enjoying their summer and all the festivities that come with life along the shores of Lake Erie. But rest won't be long in their future, as phase two of remodeling is knocking on the back door of the adorable little cottage in the quaint town of Huron, and I'll be ready to drive to the end of the road to assist once again!