Protect Your Furniture
Along with the McCready Interiors / Norwalk The Furniture Idea design services, you can now rely on the name you know and trust to clean your upholstered furniture. Our cleaning process is perfectly suited for your fine furniture, whether it was purchased at Norwalk or elsewhere. We will pick up your furniture, professionally clean it at our shop, and then deliver your refreshed pieces to your home. Our upholstery cleaning specialists are highly trained and can clean all types of fabrics.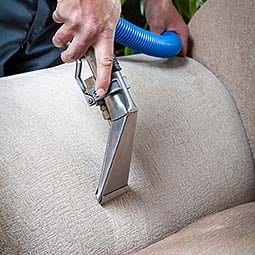 Furniture Stain Removal
It is essential to first determine the type of fabric involved before attempting to remove a stain or spot from any upholstered furniture. Some manufacturers include cleaning codes on their furniture. This code is typically located on the manufacturer's label or on the item's hang tag. These codes can indicate both the type of fabric involved – including cotton, wool or silk – and may also provide suggested cleaning methods for spot or stain removal. A generic cleaning code is included below for your convenience.
X
Vacuum or brush lightly to remove spots or stains. Do not use liquid or foam cleaning agents on this type of fabric.
S
This fabric type requires only mild, water-free dry cleaning solvents or solutions to remove soils or stains.
W
Use foams or water-based cleaning agents or solutions on this fabric type.
WS
Treat spots or stains with mild, water-free dry cleaning solvents or water-based cleaning agents and foams.