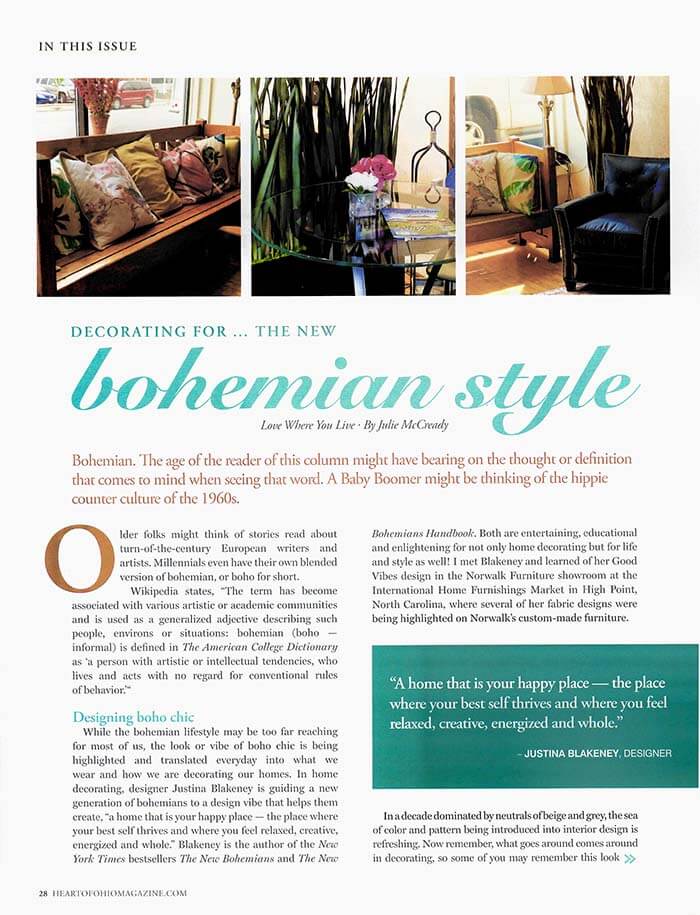 Bohemian. The age of the reader of this column might have bearing on the thought or definition that comes to mind when seeing that word. A Baby Boomer might be thinking of the hippie counter culture of the late 1960s. Older folks might be thinking of stories read about the turn-of-the-century European writers and artists. Millennials even have their own blended version of bohemian, boho for short.
Wikipedia states, "The term has become associated with various artistic or academic communities and is used as a generalized adjective describing such people, environs or situations: bohemian (boho – informal) is defined in The American College Dictionary as 'a person with artistic or intellectual tendencies, who lives and acts with no regard for conventional rules of behavior.'"
Designing Boho Chic
While the bohemian lifestyle may be too far reaching for most of us, the look or vibe of boho chic is being highlighted and translated everyday into what we wear and how we are decorating our homes. In home decorating, designer Justina Blakeney is guiding a new generation of bohemians to a design vibe that helps them create, "A home that is your happy place – the place where your best self thrives and where you feel relaxed, creative, energized and whole." Blakeney is the author of the New York Times bestsellers The New Bohemians and The New Bohemians Handbook. Both are entertaining, educational and enlightening for not only home decorating but for life and style as well! I met Blakeney and learned of her Good Vibes design in the Norwalk Furniture showroom at the International Home Furnishings Mark in High Point, North Carolina, where several of her fabric designs were being highlighted on Norwalk's custom-made furniture.
In a decade dominated by neutrals of beige and grey, the sea of color and pattern being introduced into interior design is refreshing. Now remember, what goes around comes around in decorating, so some of you may remember this look well, with bright psychedelic colors, mismatched patterns and macramé wall hangings of the past. They're back with an updated twist and look, and are being layered into homes with an eclectic mix of furnishings and accessories that have been collected along the path of travel and life, punctuated by colorful artwork, antiques and living plants.
A Salon with Style
I had the opportunity to create an abbreviated version of the boho chic interior design look in a local commercial project. Melissa Cary, owner of Studio 19 Salon and Spa, contacted me after she purchased the 20-year-old business in the spring of 2018. Cary has dreamed of being a hairdresser since she was a little girl, and had entertained the idea of being a business owner as her children grew older. Located in the historic Carrousel District of downtown Mansfield, Studio 19 is in a building with incredible character and architecture. Towering high ceilings, solid wood plank floors of rich patina and stunning arches and moldings give a backdrop of beauty for patrons looking to enhance their own beauty with a visit to the full-service salon and spa. Melissa was interested in highlighting the architecture of the building and several antique case pieces while updating some of the lighting, salon fixtures and furnishings
The historic Carrousel District receives visitors perusing the streets of downtown Mansfield to enjoy local dining, shopping and, of course, the hand-carved figures of the Richland Carrousel. Most of those visitors will also walk along the windows of Studio 19, so Melissa wanted a fun, colorful and comfortable environment for not only her clients to sit in but also for window shoppers to see.
We started with a wooden bench full of colorful pillows in different patterns and colors in the large windowed waiting area, along with a towering antique cabinet repurposed for selling hair care products on the sidewall to serve as our show-stopping focal points. We added in patterned and brightly colored rug and chairs, a silver nailhead0studdedbench in faux croc leather, rattan and wood end tables and a peacock blue leather chair to complete our boho look. It's comfortable, beautiful and just chic enough for the team at Studio 19 and its new owner.
Oh, and speaking of peacock blue, you can't miss the newly hung Miss Proud Princess Peacock perched over the refreshment bar, keeping watch over those settling inside to stay awhile or those wandering by outside along their way to another destination in life.
Fun, adventurous, and colorful… that's what decorating and life should be all about… new bohemian style.